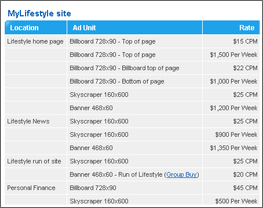 Rate Card Management
The rate card page allows your sales team to quickly review pricing and deliverables for one or more properties.


Pricing model support
SiteManagerNow supports a comprehensive range of pricing formats including:
CPM (cost per thousand)
CPC (cost per click)
Cost per day, week, month
Cost per activity
Cost per email
Cost per video
Cost per sales lead
Cost per transaction
SiteManagerNow also has the ability to allow unsold inventory to be made available to a run of site, run of network, or targeted positions automatically.


Discounts and commissions
Within SiteManagerNow it is possible to specify discount / commission levels for sales channels such as advertising agencies, and to automatically prepopulate the booking form with advertiser specific discounts. When bookings are loaded the gross and net billable amounts are then calculated based on the predefined rates.


Effective CPM calculation
For fixed tenure placements such as per day or week, the rate card will display the effective CPM. This is a handy tool for product managers and sales staff.


Future dated rate changes
In SiteManagerNow it is possible to preload future dated rate changes. When this is done the booking form will automatically put in the new rate for bookings that start after the rate change date.


Group Buys
In SiteManagerNow it is possible to create pooled placements such as run of site, run of network, or a grouping of locations with similar content type i.e. run of sport. While the placements that make up the group buy may have their own advertising rates (fixed rate or CPM) when sold as targeted placements the group buy is able to have its own advertising rate (CPM).


Publish to web
With SiteManagernow you have the option of making your SiteManagerNow rate card publicly accessible on the internet which is automatically updated when you make changes in SiteManagerNow.